:
Tracking Your Business Expenses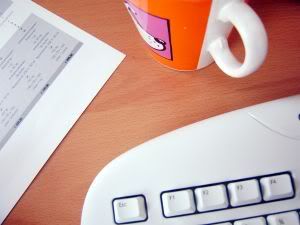 Once upon a time, long before I became a stay-at-home mom who some days doesn't make it out of my pajamas and is often caught singing Barney songs out loud, I lived in a different world. I traveled 5 days a week at times and every move I made had to be tracked for invoices. Multitasking meant more than just being productive. It meant double billing my time!
The year 2009 was my first year as a blogger and while I didn't expect to make money, I was ready when I did. My husband is also a contractor, umpiring for local schools. When we sat down with our accountant (a.k.a. my father-in-law) to access the damage, I had my documents in hand and Scott had his. The accountant looked at my sheets, then looked at my husband's, and then looked at us both in shock. Scott had listed every time someone had paid him and his mileage, while I hadn't used a stamp for business purposes without documenting it.
So, for my loving husband and all you bloggers, here it is….
If you make any money at all with your blog or business, you are a business. So, you have to file taxes and document your expenses as so. But what should you be tracking? Of course, you know to keep track of every penny you make, but expenses can be a bit more difficult. Ask yourself this…
Will I be using this in whole or partially for my business/blog?
If your answer is yes, then you can typically expense whatever it is in whole or partially towards your business. Confused? Let's say, like me, you're a frugal blogger and you drive down to CVS to buy a newspaper you'll be using to figure out the weekly deals. Not only can you place the cost of the newspaper towards your business, but also the mileage. Then, inside you find a coupon to subscribe for the newspaper at a discounted rate, because a frugal blogger would never pay full price! You can also expense that subscription, plus the envelope and the stamp you use to mail it!
Of course, not everything you use is solely for your business. Take your home for example. My office takes up about 2% of my home. That means I can also put 2% of my mortgage and logical utilities, such as my phone and electricity, towards my business. But the Internet? I use a MUCH larger percent of my internet for blogging and can expense it as so. In fact, it doesn't hurt to track the time you spend on the Internet for business purposes, so you know exactly how much of the cost is a business expense. Personally, I even expense my subscription to All You Magazine, since I use it to update my readers on coupons and to educate myself on the latest frugal tips and techniques!
Sadly, you can't get away with just anything. I do post about my grocery trips, but I can't expense my groceries (though I'd love to!), because I would have bought them for us even without my blog. I can, however, expense the mileage to the grocery store, if I look up some prices for deals to post later.
Don't forget, it's not just about tracking.  Keep the documentation too.  Receipts, invoices, and pay stubs will all be needed come tax time.
It's tedious! But it's worth it in the end. The more expenses you have, the less of a profit you can show and the less taxes you'll have to pay. Keep in mind, documenting everything is just step one. Later, when it's tax time, what percent of meals when you travel, your home, internet service, and so on is a whole different subject, so read up or find an accountant.
FREE Resources
Outright: Outright is an online system that not only tracks your income and expenses, but also creates a Schedule C (1040) form with the information you entered for tax time. Tip: Use the categories they provide, instead of adding your own, to get the most accurate form at the end of the year.
Mint: Mint is more for personal than business, but can be used for either. It not only tracks your expenses and income, but allows you to set budgets and sends you alerts when you have unexpected fees or charges from your bank.
Excel: As someone who needs a 12 step program to get over my spreadsheet addiction, I can't forget this one! You can always simply track everything in a spreadsheet like I've done in my example below. You can download this spreadsheet to get your started!
Beth's days are now more about working for kisses and cuddles, and less about billable hours (but so much more rewarding!).  She blogs at In Good Cents where she shares her latest deal finds with her friends and family, along with her favorite frugal recipes and tips.